Today, I'm thrilled to have multi-talented Augustine Sam on my blog. 
Journalists, they say, can be a pretty soul-less bunch at times, and while they are great at communicating hard facts they are generally less adept at expressing their feelings and their sensitivities. That's not true of all journalists, of course, and, according to Andy Smith (editor of The Journal of the Chartered Institute of Journalists, U.K.), "it certainly isn't true of Augustine Sam who has somehow managed to combine a career in mainstream journalism with an equally successful career as a creative writer."
Augustine is a journalist by profession, a novelist by choice, and a poet by chance. In addition to pursuing hard news, he fell in love with poetry the way you fall asleep: slowly, and then all at once. His entry poem in the North America Open Poetry Contest—Anguish & Passion—was the winner of the Editors' Choice Award. And his poetry collection, Flashes of Emotion, now being translated into Spanish & Portuguese, was the finalist in the International Book Award Contest. His debut novel, Take Back the Memory, a thought-provoking women's fiction, and his mystery/thriller, The Conspiracy of Silence, were both awarded the prestigious Readers' Favorite 5-star seals.
Grady Harp, an Amazon Vine Voice, says of him: "Poet and storyteller blend seamlessly in a drama that explores the human psyche and that thin line between living and experiencing life."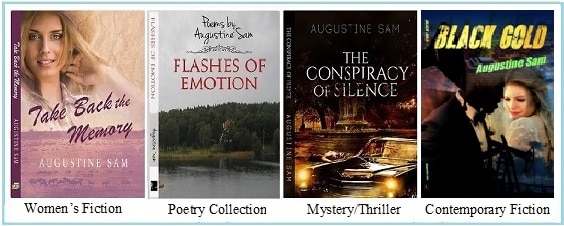 About his latest book – BLACK GOLD
His name is Anthony Femi Adeola. Her name is Jessica Rhodes. He has a first class degree in Chemistry. She has a first class degree in Economics. He is black. She is white. They are young and carefree and broke. When they land two spectacular job offers within the first week of graduation, their bleak honeymoon is transformed into a dream.
From the skyscrapers of Manhattan to the breathtaking Grand Canal in Venice, they dangle their future over a multi-billion dollar cliff-hanger. What they don't know is that undisclosed details of the deal will pitch them against each other and entrap them in the place where dreams end and nightmares begin.
Will their interracial love survive the greed, the captivating allure of Black Gold, and that vile, ancient tradition that seeks to determine who should be married and to whom?
Amazon: https://www.amazon.com/-/e/B00QOREIB0
Let's get to the five questions Augustine chose to answer. Be sure and read all the way to the end, then follow him on social media.
 If you had to describe yourself in one word, what would it be?
Answer: Realist
Ann: I consider myself a realist, as well, which is kind of funny, since I write fiction!
Who would you choose to play the two lead roles in your book, if it was made into a movie?
Answer: I would choose Jessica Alba and Chiwetel Ejiofor to play the lead roles – Jessica Rhodes & Femi Adeola – in my latest book, Black Gold.
Ann: For me, part of the fun of writing is casting my characters. I should add an addendum to this question to find out if authors do it before or after they write the story!
How do you react to a bad review?
Answer: I learn from it. As a matter of fact, I do not consider any review a bad review unless it's an outright and gratuitous abuse. Sometimes the so-called 'bad reviews' contain valuable insights and suggestions that can be quite useful to an author.
Ann: Excellent answer! I always say you're not a legit author until you get a 1-star review!
 What's next for you? Any upcoming releases we should be looking out for?
Answer: My upcoming release is the first book of a long-delayed trilogy – a literary thriller with romantic elements.
Ann: You had me at romantic elements!
 Describe your book in one word.
Answer: Blunt
Ann: I critique a lot of new writers, and one lesson I teach is…less is more. The fewer words used to get your point across, the better. 
SOCIAL AND BUY LINKS:
Website: https://www.augustinesam.com/
Blog: https://authorsuite.blogspot.com/
Twitter: https://twitter.com/austin_sam001
Facebook: https://www.facebook.com/austin.sam001/
Google +: https://plus.google.com/+AugustineSam01
Goodreads: https://www.goodreads.com/author/show/1831067.Augustine_Sam
Pinterest: https://www.pinterest.com/austinsam001/