Once again, I welcome Barbara White Daille to my blog. Today, she's taking part in Five on Friday. Be sure and check out her books and follow her on social media. Also, the featured book today is
ON SALE

for .99 cents! If you've not read Barbara's work, this is the perfect time to try it!!

What makes you laugh?
So many people and things. My husband. Kids. Big-footed, floppy-eared puppies. Clowns. Corny jokes. Clever puns and plays on words. Some snark and sarcasm, as long as it's not too mean-spirited. Televisions shows such as "The Big Bang Theory," "How I Met Your Mother," and "I Love Lucy." Newspaper comics such as Maxine, Family Circus, Dennis the Menace, Marmaduke, and Pickles, etc. Many, many comedians, including but in no way limited to Lucille Ball, Eddie Murphy, Carol Burnett, Ellen DeGeneres, Jerry Lewis, Jerry Seinfeld, the Marx Brothers, and more. The lists could just go on forever.

Ann: Right there with you, Barbara. Nothing boosts the spirit like a good laugh, ever if it's at my own expense!

What's your favorite dessert?
This is a tough one since dessert's my favorite meal. LOL Honestly, I can't pick just one. But I'll narrow it down to chocolate. Chocolate cake… Chocolate brownies… Chocolate cookies…

Ann: Yep. Who doesn't like chocolate?

Do you ever write naked?
Um-m-m…well…technically, you could say I do! Many writers will tell you they get some of their best ideas in the shower. That's often the case with me, too. There's nothing more exciting than that first burst of inspiration when the words begin flowing inside my head just as fast as the shower water is flowing, and I can't wait to get them down on paper.

Ann: Well, not many people choose to answer this question! So glad you did. Most of my ideas come after I go to bed and lie awake for an hour trying to get my characters to hush!

What is one of your favorite quotes?
"Do it now." I think many people—including me—tend to think some items on the to-do list seem much more time-consuming or complicated or boring than they actually are. We wait until those items become big, scary monsters waiting to grab us, or worse, turn into a series of crises looming over our heads, rather than tackle them and get them done. Practicing the oh-so-simple "Do it now" principle has helped me many times, and I hope it will help people reading this, too.

Ann: Words to live by. Simple, but so true!

What is your favorite thing to do during your spare time…besides writing?
Snuggle on the couch with my husband while reading and eating something chocolate!

Ann: I vote for more snuggling and chocolate!!

And speaking of chocolate…
Here's the back cover blurb from A Rancher of Her Own, a Hitching Post Hotel book that may mention chocolate a time or two. The book is available in print and digital, and—as of this writing—it's on sale for $.99 in digital format at many major e-tailers.

A Rancher of Her Own (The Hitching Post Hotel #2)
A REASON TO STAY
Ranch manager Pete Brannigan has no interest in playing tour guide to a city slicker like Jane Garland. But spending a few days with the headstrong photographer is a small price to pay for everything her grandfather has given the single dad. Though Pete's drawn to Jane's sharp wit and striking beauty, he won't hurt his young children by falling for another woman who puts her career before family.
Jane's seen the world through her camera…and used it to shield her emotions. With Pete, she can finally let her guard down. If only he could do the same. Despite their powerful bond, Pete still can't trust Jane with his kids or his heart. But if he keeps pushing her away, he may ruin any chance their relationship has to develop.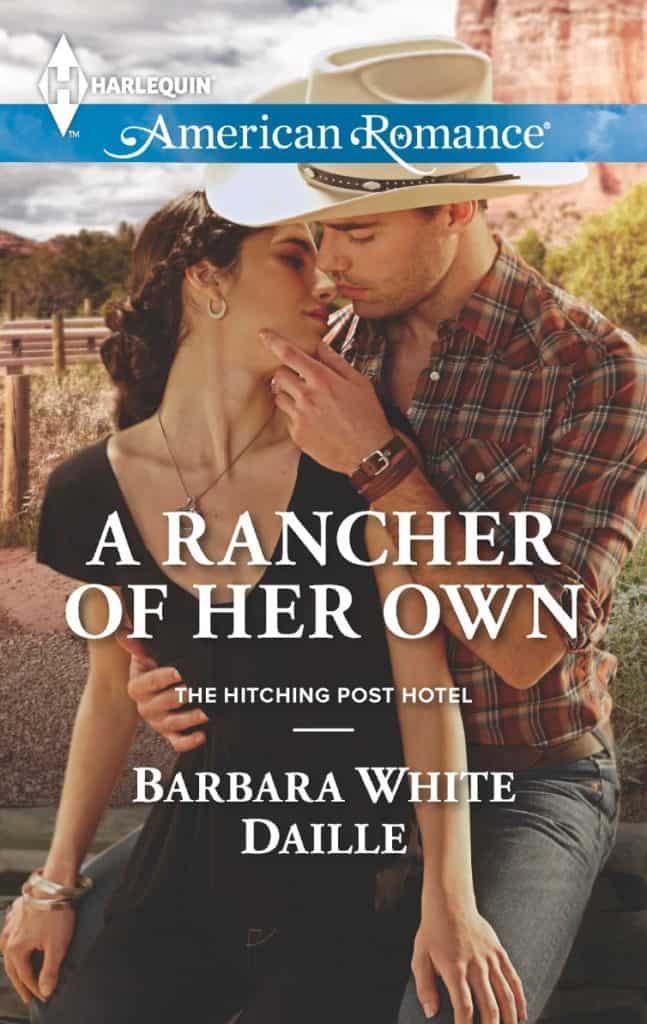 Buy this and all of Barbara's books here:
Amazon http://www.amazon.com/Rancher-Her-Hitching-Post-Hotel-ebook/dp/B00SFSL8BE/
Barnes & Noble http://www.barnesandnoble.com/w/a-rancher-of-her-own-barbara-white-daille/1121000580?ean=9780373755776
Harlequin https://www.harlequin.com/shop/books/9781460384848_a-rancher-of-her-own.html
IndieBound http://www.indiebound.org/book/9780373755776
Kobo https://store.kobobooks.com/en-US/ebook/a-rancher-of-her-own
Barbara White Daille lives with her husband in the sunny Southwest. Though they love the warm winters and the lizards in their front yard, they haven't gotten used to the scorpions in the bathroom. Barbara also loves writing, reading, and chocolate. Come to think of it, she enjoys writing about those subjects, too!
Barbara wrote her first short story at the age of nine, then typed "The End" to her first novel many years later…in the eighth grade. Now she's writing contemporary romance on a daily basis. Sign up for her newsletter to keep up with the latest in her writing life: https://barbarawhitedaille.com/newsletter.
Social Media Links
Website https://www.barbarawhitedaille.com
Blog https://www.barbarawhitedaille.com/blog
Newsletter https://www.barbarawhitedaille.com/newsletter
Facebook http://www.facebook.com/barbarawhitedaille
Twitter https://twitter.com/BarbaraWDaille
Amazon author page http://www.amazon.com/Barbara-White-Daille/e/B002J6B0QQ
Harlequin author page https://www.harlequin.com/shop/authors/23759_barbara-white-daille.html