Today, I am pleased to welcome Christian writer, Frankie Capers to Five on Friday. As of this post, the questions will be more general and less about writing. Some will be downright silly but fun to answer…I hope.
Please check out her children's coloring storybooks…just in time for those little ones on your list!
As always, I encourage you to write reviews on Amazon or your other favorite retailer for the books you read because they are so important to authors!

Frankie Hambrick Capers is the mother of three daughters and one son, all of whom are married. Her10 grandchildren and 11 great-grandchildren provide her with a wealth of story ideas. She also has published works of poetry. While she was employed, she wrote for her company newsletter.
Frankie retired to East Texas and writes to instill in children the desire to read and get caught up in a world of imagination much like her own childhood.
In addition to her Children's Story-Coloring Books, where children can color the story they are reading, she enjoys writing poetry, singing, sewing, square dancing, and spending time with family and friends.
Frankie's Five on Friday questions.
You open your front door and find a penguin wearing a cowboy hat. What does he say?
"Have you seen my horse? He's a black and white paint."
What is one strong memory that has stuck with you since childhood…and why?
I'll always remember the Sunday morning I accepted Jesus as my Savior at the age of nine. It was a meaningful and important step for me. I remember our preacher coming to my house the week afterward to talk to me before I was baptized the next Sunday.
What is your favorite book and why?
The Bible is my favorite book because it has been my guide throughout my life. God answers my prayers through His Word. I love to read and study it daily. It's a historical book of war and peace, as well as miracles and romance.
Do you have any family traditions? If so, what?
For the past forty-two years, those of our family who can (over 100), come together for family reunions on Thanksgiving at the same Community Center in deep East Texas. 
Another tradition for me is to spend Christmas with one of my four children. Since my divorce twenty years ago, they have insisted I not wake up Christmas Day alone. So, I have rotated spending Christmas holidays with one of them and their family each year.
What is your favorite TV show of all time and why?
"The Andy Griffith Show" has always been my favorite TV show, because it's a clean family show that's funny, entertaining and always teaches a good moral lesson.
Frankie's Books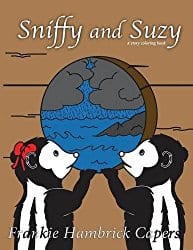 Sniffy and Suzy are two adorable skunks that thought they would stink and not be allowed on Noah's Ark. But, God called everyone, so they boarded. Children need to know they each have a purpose in life, and should never feel unwanted or unimportant. Available in English and Spanish.
Juneau's mother was teaching him to breach the water in his home in Alaska. She was also telling him a family story of his Great-Great Grandfather, Old Barnacle that swallowed Jonah. Family stories should never get lost in time but should be kept alive and retold to children.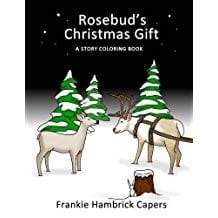 One spring a fawn was born in a flowerbed. Deer eat all the roses, so to keep one rose around she was named Rosebud. Her mother left her there but returned for her at dusk. She grew to be a beautiful doe. The following Christmas Eve, she received a gift she would always remember.
Frankie's author page: https://www.amazon.com/author/frankiehambrickcapers
Email: frankiecapers63@gmail.com