Today, I'm pleased to feature Roy Dimond and his new release, SILENCE AND CIRCUMSTANCE.  Here he answers some questions about the book, which for all you mystery buffs…will find very interesting! A mystery concerning mystery writer, Agatha Christie! The first five sentences of the fifth chapter he shares here, are enough to hook me! I've purchased the book and can't wait to read it!
Thank you so much, Roy for taking part in Five on Friday. I always enjoy your answers and your books!

-I wasn't familiar with the disappearance of Agatha Christie, but then again, I'm not much of a history buff. How did you come up with the story idea?
First Ann, let me say thanks once again for allowing me to participate in your wonderful Five on Friday Blog. It is just great talking with you again. I am very excited about the launch of Silence and Circumstance published by Untreed Reads and a big thank you to my agent Malaga Baldi who got me the deal.
Well, the disappearance of Agatha is well known for most readers of Mrs. Christie's novels. At the time, December 1926, it was possibly the biggest story of the decade, followed by virtually every household in England. Imagine if Stephen King went missing today, possibly kidnapped or worse? Social media would be frantic with information. It was not that different in England at the time of her kidnapping. At that time, morning newspapers and neighborhood gossip took the place of Google and twitter, but information was shared almost as quickly.
The idea intrigued me to develop the story from a different perspective, so I chose to tell the story from the eyes of the Governess, Charlotte Fisher. No one knows for sure what happened those 11 days Agatha went missing, but the prevailing theory is that she had a nervous breakdown. But other theories persist, from kidnapping, to a public relations stunt for her upcoming book launch. Some even believe Agatha worked for British Intelligence.
 I like to think she was on a mission that would be relevant even today.
I think it's clever to write a mystery concerning a mystery writer. Was that part of the appeal of your story idea? And, since it's fiction based on a true event, how much is fact?
 Thank you and yes it was absolutely part of the appeal. Writing a fictional account about a real event, Agatha Christie going missing, it's a natural. I had stormy nights, and lightening, and wind storms blowing through my head the entire time I wrote. There is a tremendous amount of fact in the book. I researched it the very best I could. Information started popping up that guided my story. For example, the fact that Sir Arthur Conan Doyle and Dorothy Sayers actually participated in the search. It was the first time that planes were involved in searching for a missing person and canals were dredged looking for a body. That stuff is right out of Agatha's stories only it's true and about her. Every British citizen was asked to keep an eye open for Mrs. Christie and 16,000 officers were involved in the search.
 It was a rich environment to allow a writer's mind to play. So the fictional part was, for me, as much fun as the research. To be able to bring Hemingway and secret societies into play, well it was a wonderful experience. It seemed that each character I added did somehow actually tie into the search, as the English elite was a very closed society back in that time.
-Are you an Agatha fan? Do you read her work?
 

I am a huge Agatha Christie fan and have read most if not all her books including her amazing short stories. I have seen the actual Orient Express and taken the Blue Train of which she wrote. I gave a small nod to Agatha in the opening of my book, as the cast of characters are introduced in order of appearance with a small write up about each one, as she often did in her novels.
-Just for fun, since this is Five on Friday. Go to the fifth chapter of your book, and give us the first five sentences of that chapter.
 The main character Charlotte "Carlo" Fisher is speaking. The Dorothy is Dorothy Sayers who, by the way, invented the saying, "It pays to advertise." As with most writers I gathered this information through research.
Chapter Five
The Associations
 It was near midnight by the time we navigated our way through the back streets and alleys of London arriving exhausted at the London train station. For most of the walk, Dorothy held her arm around my waist in an embrace that I found most disconcerting. Even in the midst of the other waiting passengers, she held me close. I am sure with her boyish clothes and haircut many thought we were man and wife. Despite my discomfort I said nothing, as I did not exactly know how to broach the subject other than occasionally straining away from her, an action that she seemed to not notice.
 -I've read your book, The Rubicon Effect, which has a lot of twists and turns, and if I remember correctly, also multiple points of view. From the excerpt of Silence and Circumstance, it's written in first person. Was that a hard switch for you, or, are you more comfortable writing first person?
Thank you for remembering The Rubicon Effect and yes it was written from multiple points. Silence and Circumstance however has two threads running through it. One is Agatha's Governess searching for her missing employer, but also Sir Arthur Conan Doyle and his protege, a very young, Ian Fleming who travel to Istanbul in search of Agatha's diary. As in any good mystery, clues guide the characters. The story comes down to this… Is Agatha Christie a pawn or the puppet-master?
 Thank you again, Ann for your time and support. You always ask the most interesting questions. Best of luck with your own writing career. More books Ann! Readers like myself demand it! All the best.
Roy Dimond lives in Pender Harbour, a serene coastal village along the west coast of British Columbia, Canada. From his log home overlooking the ocean, Roy and his wife Lorraine spend their days hiking around the surrounding lakes and forest.
Before writing his first novel, The Singing Bowl

, Roy was a Youth Worker in the education system. Since retiring, he has traveled the world. Through his experiences, many interesting characters and stories have found their way into his manuscripts.
To learn more about Roy check out his websites.

 

Fun games to play and some fantastic prizes to win….check out the prizes here:
Check out the event page, where you'll see my book, Tell Me a Secret, among the featured authors at:
TODAY… is the cover reveal of my fifth novel…

Two Wrongs Make a Right. (contemporary romance)

The cover reveal promotion is being done by Book Enthusiast Promotions and will be featured today on thirty-five blogs.
Synopsis:
All Quinn Dorsey wants is a white picket fence fairy tale. But after another failed relationship, and her biological clock ticking double time, she's decided happily-ever-after isn't in the Tarot cards. Forget Cupid, it's time to take matters into her own hands. A simple seduction should do the trick, but then everything that can go wrong…does!
Dak Savage isn't interested in commitment. He's been burned by women before – lied to, used, even shot. Hell, he considers women a curse and has one rule he never breaks – don't pick up women in bars. But when he agrees to a guys' night out and meets up with feisty, fast talking Quinn, his rule shatters like a dropped shot glass.
A one night stand turns into a long weekend and as Quinn tries to abandon her ridiculous scheme, she finds herself nose-to-nose and toe-to-toe with the best mistake she's ever made.
                     RELEASING…APRIL 16th!
Usually on Friday's I do a Five on Friday post, but today, it's six on Friday. Six kittens arrived!
Here are a couple of pictures of the new arrivals.
I don't normally let my pets have babies, but my grandchildren begged me to let Tizzy have one litter before I got her spayed.
 She got with the program and delivered during Spring Break, so the kids were able to witness the birth. They were very excited. They've never had a pet before…so they've never been around puppies or kittens.
They'll be ready for adoption…the kittens, not the grandkids…. the end of April…anybody need a sweet kitty?

Hey Y'all….The Romance Reviews is celebrating their fourth anniversary the whole month of March.
My book, Tell Me a Secret, will be featured on March 7, but go to their site each day and play the games to win some fantastic prizes!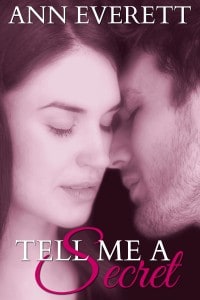 If you're a romance reader, you might just find great books and discover a new favorite author! Contemporary, historical, new adult…all sorts of romance. Check it out.
I took part in a webinar this week on "What Successful Websites Should Have."  Your website is your constant marketing tool. It's where you display your books everyday without competition! So why not make it the best it can be?
It's here that I can share with the world my book,

"Tell Me a Secret"

recently made it into the top 100 on Kindle, without any free or reduced price promotion!
Also my non-fiction book, 

"Strong Verbs Strong Voice"

has remained #1 in the Kindle store… word lists and slang word category for 3 months! 
In addition to author's picture, book covers, and bio, you should have:
1. Buy links from all the outlets where your book is available…with one click access. Be sure to include ebook, print book, and audio book information!
2. All your social media links. Twitter, Facebook, LinkedIn, Google +, Pinterest, and all those others you belong to.

..

with share buttons. Make it easy for readers to share your blogs, photos, book information, etc.
3. email sign-up. This will help build your email list, so you can let readers know when you have breaking book news…giveaways, new releases, free offers, etc.
4.  Testimonials…either from important people or review sites, or simply from reviews your books receive on Goodreads or Amazon.
5. Contact information. Make sure you have your email address available so readers can keep in touch with you.
I have improvements to make to my own website!!
I never thought seeing a movie like 50 Shades would make me want to do some of the things shown, but it did. I'll get to that in a minute.
First, there is some beautiful cinematography in the movie, where the camera zeros in on certain things. A hand gripping the edge of a desk, which shows a ton of emotion without dialogue. A pencil that Anna chews on…also another great shot. I thought the sensual scenes were well done. Not crude.
However, the movie is not for the weak hearted. There's plenty of nudity, and some foul language. That's been widely reported, but yet, one woman still brought her daughter, who looked to be about thirteen! I could not believe it!! Made me wonder what that child sees in everyday life???? Call me a prude, but I think movies like Shades should have a strict policy of no one admitted under 17, regardless of parental consent. Let's face it, there are a lot of idiot parents out there!
In my opinion, Dakota Johnson is perfectly cast as Anastasia Steele. A balanced combination of innocence and self-confidence, especially when deciding about Christian Grey, played by Jamie Dornan. Unfortunately, I didn't find his portrayal as engaging as hers. That had more to do with his physical appeal than acting ability. He's a model, so there isn't much to him. I really didn't see him as dominating.
<<<<<<Now… Max Martini, the guy who plays his driver…now that's a guy I'd believe could dominate!
That's strictly a personal opinion, I'm sure others will LUV Jamie Dornan. Several women in the audience did, and let it be known.
That brings me to the part where I was influenced by the movie. There was a loud-mouthed woman in the audience who had something to say about most every scene. Before the end of the movie, I wanted to bind her, gag her, and whip her…all the way to the front door!
I suppose if I rated the movie, I'd give it 3 stars. It wasn't awful, but it wasn't fantastic. I felt the same about the book. I've never understood what all the fuss is about. I've read much worse…and seen more erotic scenes in other movies (Coming Home, 91/2 Weeks) that haven't gotten the hype this one has….or maybe they did back in the day, and I've forgotten.
I'm old…I do that sometimes.
Surely I have at least five ideas in this post, so I'm using it as a Five on Friday!
If you're like me and haven't mastered Scrivener, or some other formatting program, you'll need to find someone who can do the job for you.
Keep in mind you'll need different files for different sites. One for print/Createspace. One for Kindle/AmazonKDP. One for Nook/Barnes&Noble. One in Pdf. format. At one time or another, you'll need all of these.
If you offer ARC's (Advanced Reading Copies) prior to the book's release (to get reviews) you'll need to be able to offer those readers a choice of pdf., mobi, ePub, or word document.
I found a great formatter on Fiverr.com. If you're not familiar with that site, please check it out. They have vendors who will do a ton of things for….you guessed it…$5 bucks!
Don't get too excited, getting a 70,000 word manuscript will cost you more that five dollars. For that amount, you might get 2500 words done, and then you'll have buy extra "gigs" for the remainder.
I highly recommend the person I used. AnnMarie Stone. She did a fantastic job. She delivered on time and kept in close contact with me. She's now gone out on her own, so here's her link.

 

http://www.annmariestone.me/formatting.html
Feel free to use my name if you contact her.
Look for vendors located in the US, and have some dialogue with them before you purchase to make sure they have a good understanding of the English language…because communication is most  important!
If you'd like more info, contact me: ann.everett@rocketmail.com
Looking for some great children's books? Well, here you go!!! Lovely artwork and fabulous rhymes for kids! Thanks, BobbiCat for taking part in my Five on Friday!
 
If you could snap your fingers and make one thing happen…what would it be?
I would snap my fingers and every child would get a chance to read a BobbiCat Book.
Top three things on my bucket list.
Make sure BobbiCat Books are the best on the market.
I've done everything I ever wanted to so I dream up new wants everyday.
Put a smile on the face of everyone I meet.
Do I have a secret?
Doesn't everybody? Sure, I do.
 Do I write in silence or listen to music.
I listen to music…always.
Best advice BobbiCat can give a new writer.
Write every day, attend workshops, critique groups, and join writing clubs, and write, write, write.
BobbiCat has numerous books (some pictured below) available on Amazon at this link:
 
I'm honored to have read all of Dennis Hart's books. Each has something different to offer the reader but they all have his special brand of humor. Even in Life Minus 3 1/2, which is based on the true story of how he embezzled millions of dollars from the company he worked for, there are moments of humor threaded throughout. Thanks Dennis!!
Be sure and read all the way to the bottom so you can get the answers Dennis gave to his questions…they will make you laugh!
Check out Dennis' books at the  link below.
http://www.amazon.com/Dennis-Hart/e/B0039X0AIM/ref=sr_tc_2_0?qid=1421368465&sr=1-2-ent

 "Gulf Boulevard by Dennis Hart is a delight. A rerun of Neil Simon's Odd Couple with a thriller engine . . . a collision with seriously amusing results . . ."
San Francisco Book review
"David Barry fans will welcome Hart's comic thriller . . .This is neither great literature nor politically correct, but it's a lot of fun."
Publishers Weekly
"Hart has a way with one one-liners and left-handed descriptions . . . There's plenty of good fun in Gulf Boulevard with a sequel to come."
Kirkus Reviews
Kirkus Reviews for Life Minus 3 1/2
A habitual gambler recounts a life of bad decisions in sports books and corporate embezzlement, and the effect it had on his family.
No one's saying Dennis Hart had it easy. A father at 17 with an unstable girlfriend and bills to pay, he shelved his nascent college career to begin life in the working world. There—facing dire straits that many of us have encountered at one time or another—Hart gave in to the first of many opportunities to bend the law and profit while doing so.
From there, despite his lack of formal training, Hart was skilled enough as an accountant to land jobs in numerous financial departments at mid-sized companies. When he and two colleagues began their own precious-metals company (and Hart began a separate travel agency), he developed the means and the structure to begin cashing illegal checks to support his gambling habit.
His sports bets—and the Hollywood-named hustlers who are on his tail—continue to multiply while he draws money from his companies and conceals the misdeeds on the balance sheet. As Hart juggles this downward-spiraling mélange of family, lawyers, hustlers and hit men, Hart's readers will feel the stress once corporate managers finally notice the balance sheet irregularities.
The inherent suspense throughout contrasts well with Hart's candid and effortless writing style; he recounts every mistake from a refreshingly honest and self-effacing perspective. What may strike readers most is the ultimately tragic nature of Hart's story. A handsome, intelligent, charismatic man, he seemed to have the world at his feet. But a series of bad decisions and weakened resistance to temptation sent him down a path that twisted toward lifelong infamy.
In a moment of bleak anguish, Hart describes his future wife agreeing to a first date with him: "It would prove to be the worst decision she ever made." In the end, perhaps Hart's greatest victory is keeping his wife, his dream of Florida and his readers on his side.
Recommended both as a suspenseful story and a cautionary tale of yielding to temptation.
FIVE ON FRIDAY QUESTIONS…OR I SHOULD SAY THIRTY-SIX ON FRIDAY!!
If you could snap your fingers and make one thing happen, what would it be and why?
The obvious answer is world peace, but I'm sure that's been spoken for, so I'll snap my fingers and eliminate mosquitoes because those buggers deserve to be eradicated.
If you had to describe yourself in one word, what would it be?
I'd say hesitant, but hold on a minute.
If you could choose your last meal, and you weren't in prison, what would it be?
Prime Rib and Maine lobster, with a side order of chocolate Haagen-Daz ice cream.
If you could change one thing about yourself, physical, mental, emotional, what would it be and why?
I'd say to be taller so my mental state wouldn't be so emotional when I'm looking up at a woman I'm attracted to wearing six-inch stilettos.
If there was one person, real, fiction or fantasy, you could spend time with, who would it be and why?
Adam. So I could warn him about Eve. 
What are the top three things on your bucket list?
Living forever.
Meeting an alien from another planet.
Retiring on a warm beach.
What's the one thing you do every day that you enjoy the least, but do it anyway?
Wake up.
Do you have any odd or interesting writing quirks?
Yes, when I try to write anything serious, it ends up humorous. I can't control it.
If you could live anywhere in the world, where would it be?
In a hammock stretched between two palm trees close to warm water and balmy breezes filled with salt-laden air.
What makes you laugh?
Anything funny.
Name one thing you've learned from your heroine.
I don't take drugs.
What is the most romantic thing a man/partner has ever done for you? Have you put it in a book?
She took out the trash one day. No, it was too special a moment to be in my books.
Who would you choose to play the two lead roles in your book, if it was made into a movie?
In my book Gulf Boulevard, I'd cast Jason Bateman to play Jason Najarian and John Goodman to play Sal, Two Scales, Scalise.
What is your greatest fear?
Speaking to a hostile crowd.
What is your favorite thing to do during your spare time…besides writing?
Gardening.
What do you like best about yourself? Least?
Best: Survivor. Least: That I get myself into situations that enable me to claim I'm a survivor.\
What is one strong memory that has stuck with you since childhood…and why?
The blooming boobs on Brenda Smith, my first infatuation.
What is one of your favorite quotes?
"Never miss a chance to keep your mouth shut." Robert Peck
Do you have a secret? Something you've never told anyone…just answer yes or no.
Maybe. I can't remember.
Do you have any tattoos? If so, care to say what and where?
No tats.
Do you read horoscopes?
No. I don't want to predict the future, only the past.
What's your favorite dessert?
Anything related to chocolate.
Do you write in silence or listen to music?
Silence. I have to be able to answer my own questions.
What do you want readers to know about you that's not in your bio?
I'm addicted to M & M's.
What is your favorite book and why?
Gold Coast by Nelson DeMille. I couldn't put it down.
Do you have any family traditions? If so, what?
Yes. We all eventually pass away.
If you could be a character from one of your books, who would it be and why?
I'd be Dennis Hart in the book, Life Minus 3 ½ and I'd be Jason Najarian in the books Gulf Boulevard and Sand Key.
What's the best advice you ever got…doesn't have to be about writing.
From the movie Shawshank Redemption: "Get busy living or get busy dying."
Do you belong to a critique group?
There is a coterie of miscreants loitering in my head that critique everything I do.
What's the best advice you can give a new writer?
Write what you want, not what others want.
Do you remember your first kiss? Care to elaborate?
If my memory serves me well, right after the doctor whacked my butt, a beautiful nurse kissed me on the cheek.
Your four fantasy guests for a dinner party…living or dead.
Dean Martin, Rodney Dangerfield, Don Rickles, and Steve Martin.
Where were you when JFK was shot?
I was 10 years old, in the hospital recovering from a broken femur. I will never forget the nurses and orderlies embracing each other as they stared at a wall-mounted television.
Do you sing in the shower or car? What type of music?
I sing in the car. My playlist is eclectic from The Beatles to Bruno Mars.
Do you think you resemble any famous person?
If I did, they wouldn't be famous.
What's the most embarrassing thing that's ever happened to you?
Walking into a ladies restroom at a function and thinking, "They finally got rid of urinals and added privacy stalls." OR, I was on vacation at Club Med in Cancun and was trying hard to impress this Houston gal named Nancy when the shrimp was served. I'd never had shrimp before, so I bit in to look cool. Nancy looked at me and said, "Don't you take the shell off first?" I froze while thinking the shrimp WAS a little crunchy. My reply, "Oh…yeah this is how we eat shrimp in Boston."