Thrilled with the cover of my new book…soon to be released, Tied With a Bow and No Place to Go. Should be available by August 20th!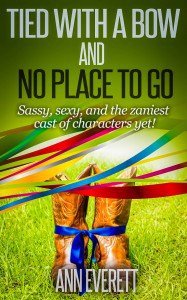 Texas Ranger Ridge Cooper has investigated some odd cases during his career, but when local chicken farmer, Jay Roy Hobbs, is found dead, wearing nothing but boots and a bow, it becomes the strangest one yet. On the positive side, the lawman won't lack for suspects. Turns out the victim got up close and personal with most of the girls in his graduating class and they're in town for a reunion. All Ridge has to do is tolerate a talking parrot and consult a color wheel as he tries to determine if the culprit is one of Jay Roy's three ex-wives or a high school conquest.
While her husband looks into his latest murder case, Tizzy Cooper has problems of her own. She's joined forces with first cousin and local PI, Jinx Monroe, to follow a possible cheating husband, confront their Nana about baking Boom Brownies, and drench-a-wench at the local Renaissance Faire.
Awards for Tied With a Bow and No Place to Go
Top five finalist 2013 Strongest Start Novel Competition, thenextbigwriter.com
First place in Northeast Texas Writers' 2014 First Chapter Contest