Welcome, Daryl Devoré to Five on Friday! I love your cover. The combination of blue and aqua is really eye-catching.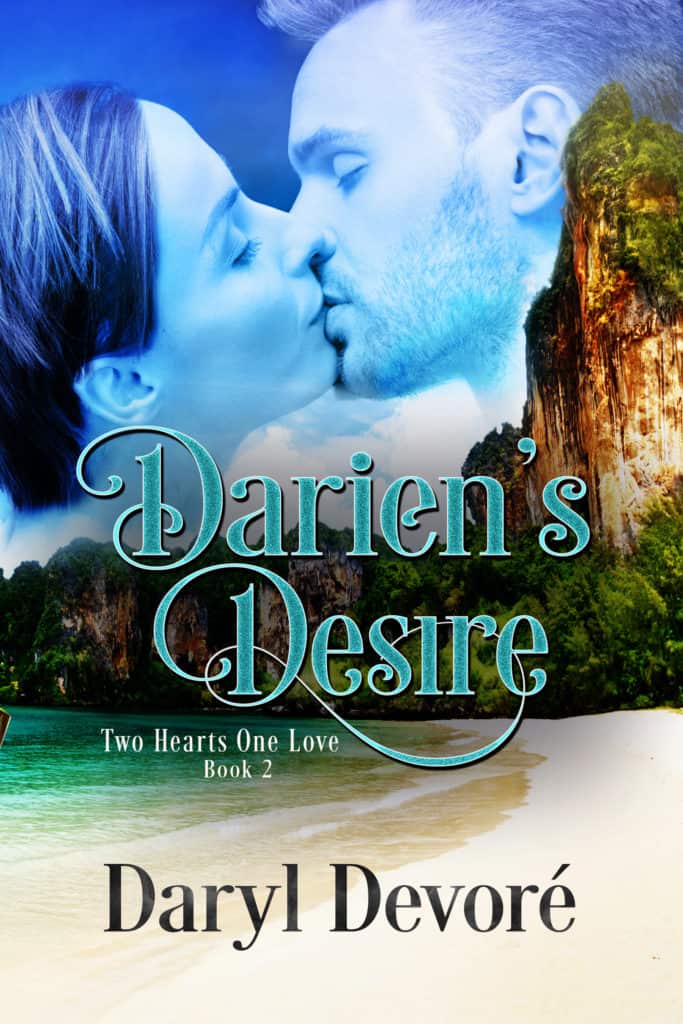 It's complicated is not only her relationship status but the definition of Erika Bailey's life. She loves managing her drag queen club in Bangkok, Thailand, but her rock star boyfriend resides in North Carolina. And to top it off, her father threatens she must stay away from Darien or lose the Pink Flamingo. Does she protect her club or her love?
Darien Scott, Grammy award winning international superstar, wants nothing more than to wake up in the arms of Erika, the woman he loves, but contractual obligations force him to exotic video shoots and an isolated movie set with one of Hollywood's sexiest stars.
With the feeding frenzy of social media trending every aspect of Darien's life—real or not—it's hard for Erika to know the truth. Will she be able to see through the lies and trust Darien? Or will evidence from damaging Internet rumors condemn their relationship?
Book 1 – Two Hearts ~ One Love Trilogy – What Happens in Bangkok
Book 2 – Two Hearts ~ One Love Trilogy – Darien's Desire
You loved What Happens in Bangkok and want to know what happens next….
Book 3 – Two Hearts ~ One Love Trilogy – title not released- Book release Dec 2017
Buy Links
Extasy Books
Amazon
Kobo
Daryl's Five on Friday Questions
 If you had to describe yourself in one word, what would it be?
Introvert. Once I get to know a person, I blossom, but it takes a while.
Ann: You and I are opposite on that front!
What is one of your favorite quotes?
Save The Planet. It's the only one with chocolate.
Ann: I love that quote! Never heard it before but I'll remember it!
Do you belong to a critique group?
Yes. A fabulous one. We've actually moved beyond the concept of "just" a critique group. We visit each other's blog and tweet and share. We support when another writer is feeling low. We cheer when there is a new release. We off advice when someone is stuck writing a blurb. And yes, we still do critiques.
Ann: Any writer who doesn't belong to a critique group is missing out! You're right about the support they offer. And as writers, we need that!
How do you choose a title for your book?
Some of my titles were chosen for me by my former publisher. Some titles I chose. What Happens in Bangkok was suggested by a critique group friend. I titled this latest book – Darien's Desire. The title has to do with something in the book. And the "not yet released" title of the next book was also suggested by a friend.
Ann: Almost always I come up with a title before I start the book, but in one case, I was stumped. I also had a friend who suggested a great title. Can't live without friends!
 Dog-eared pages or bookmarks?
Bookmarks. 2 reasons. 1- My mother is a retired librarian – there was no turning down a corner! 2 – I have a fantastic bookmark. It is simple and wonderful to use, but there is one tiny problem with it. I made the bookmark – 2 old coins (I mean ancient) that have holes in the middle and they are tied at the ends of a long thin cord. This fits in the book and the coins drape over the top and bottom edges. I can leave it in the book when I am reading, but the tiny problem is the cat sees the coin hanging there and I have been pounced on more than once. Being lost in a good mystery and then suddenly having a bundle of fur attack can be a bit startling.
Ann: I always hate commenting on this question, because I do both! My bad. Paperbacks, dog-eared. hardbacks, bookmarks.
Bio
Daryl Devoré (@daryldevore) lives in an old farmhouse in Ontario, Canada, with her husband, a large salt water aquarium full of fish, a black cat named Licorice and some house ghosts. Her daughter is grown and has flown the nest. Daryl loves to take long walks up her quiet country road or snowshoe across the back acres, and in the summer, kayak along the St. Lawrence River. She has touched a moon rock, a mammoth, and a meteorite. She's been deep in the ocean in a submarine, flown high over Niagara Falls in a helicopter and used the ladies room in a royal palace. Life's an adventure and Daryl's having fun living it.
Blog – https://daryldevore.blogspot.ca
Facebook – https://www.facebook.com/Daryl-Devore-Erotic-Romance-Writer-280168402052520/
Twitter – http://twitter.com/daryldevore
Google+ – https://plus.google.com/u/0/107866370365154406917