To celebrate National Cheesecake Day, I'm sharing Sugarpie's (AKA, my sister, Carol's) recipe!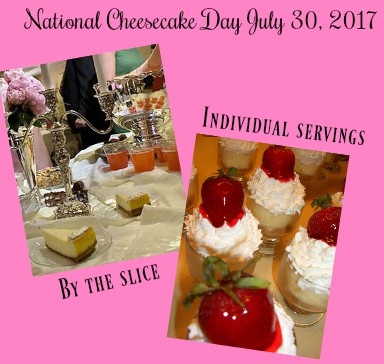 Sugarpie's Famous Cheesecake
Ingredients
1½ cups graham cracker crumbs
¼ cup granulated sugar
½ stick melted margarine
3 (8 ounce) packages cream cheese
at room temperature.
1½ cup granulated sugar
1 teaspoon salt
4 eggs
1 cup sour cream
¼ cup granulated sugar
1 teaspoon vanilla extract
Directions
Preheat oven to 350 degrees F.
Mix graham cracker crumbs, sugar, and margarine. Press into spring form pan.
Beat cream cheese, sugar, and salt, until creamy, add eggs one at a time. Pour into pan.
Bake approximately 45 minutes. Remove from oven; let set for 10 minutes.
Reset oven to 450 degrees.
Mix sour cream, sugar and vanilla. Spoon over cheesecake and return to oven and bake 3 minutes or until set.
Cool, Chill overnight or at least 6 hours. Top with favorite fruit topping and or Whipping Cream.
Sugarpie loves to make little individual servings in small glasses, and they are beautiful!